<
Denali National Park, Alaska
It took me a long time to pick a cover photo for this day. As you scroll through this story, you'll see that it's tough to pick just one photo that captures the essence of Denali. I defaulted to the mountain (Denali) itself. And there's a cool story about this photo. Read on …
Bright & Early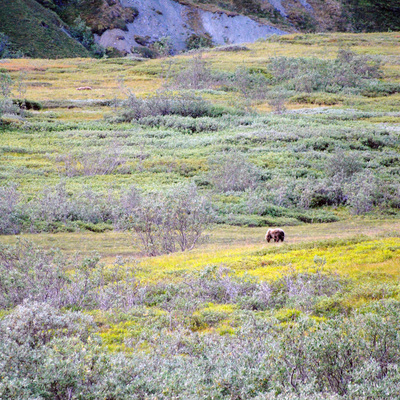 The bus was leaving at 6 am. Luckily for us, we still felt like that was 10 am. We were up at 4:45 am and ready for the breakfast buffet (at the same restaurant as dinner, Prey). No, it wasn't complimentary.
The sky turned a funny pink color as the sun rose, which told us it was time to go. I was uneasy about this long day ahead of us. 14 hours in a bus after traveling for so many days in a row, but I was ready to see some cool stuff!
You're picturing the bus, aren't you?
It wasn't a greyhound bus. It was a glorified school bus. This was perfect for taking photos, since you could drop the windows. Of course, that didn't keep most of the passengers from shooting behind their windows!
Will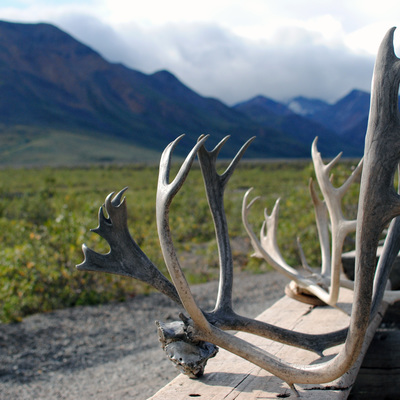 Let's chat for a second about our tour guide, Will. Will was a 23-year-old surfer brah from Florida. He moved up to Alaska last year and hasn't left. He spent the winter in Fairbanks working on the pipeline.
He had been driving the bus on this narrow, unguarded road for less than a season, but he was good! He spent his nights reading about the park and his days off backpacking through the park. He knew a lot and we all benefited from that.
Plus, he had some great jokes, like What is great and magnificent and has ears?
A mountain.
---
Let's stop for a minute. The day was so long and filled with stories, and there are just too many things to talk about with Denali. I think it's best if I just pick some areas to focus on and group some short stories together.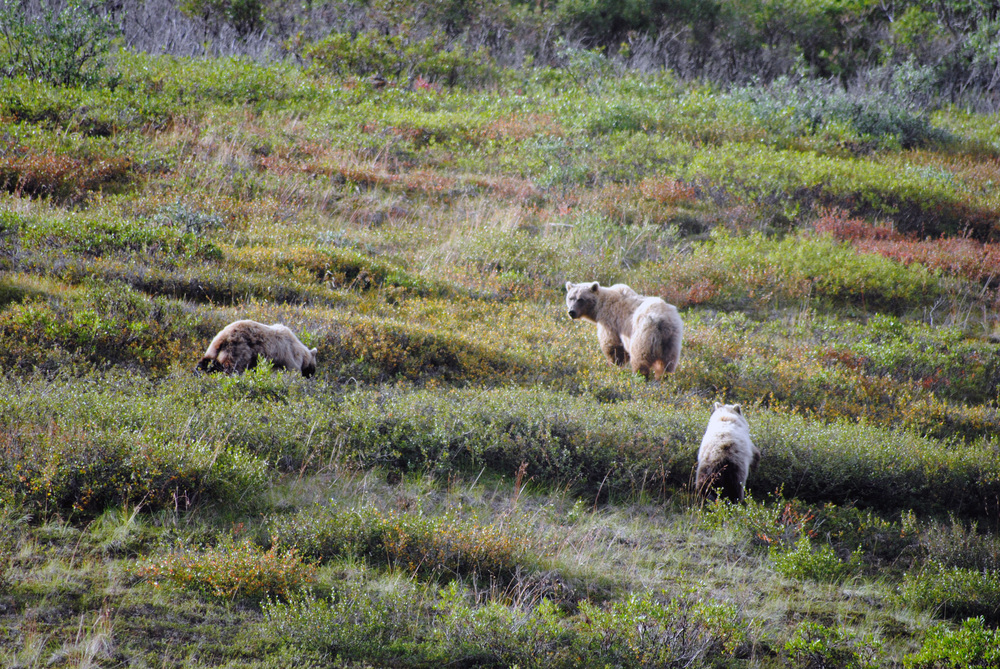 The Mountain
You've heard of Mount McKinley, right? I had, too. But I didn't know of any connection between Mt. McKinley and Denali National Park.
It turns out that Denali NP was originally called Mount McKinley National Park. Denali is the native name of the mountain (it means "the high one"). And while the NPS recognizes the name change and labels the mountain as "Denali" on its maps, the federal government still considers the mountain "Mount McKinley." The hope for most native Alaskans and Alaska's current inhabitants is that the mountains is recognized for its native name. You can read more about the naming controversy on Wikipedia.
What you probably already know about Denali is that it is the highest peak in North America. (It's a whopping 20,237-foot summit elevation.)
Because of its elevation, it's often hidden in the clouds. We heard on many occasions that only about a third of the visitors through Denali NP get to actually see the peak. We saw it three times.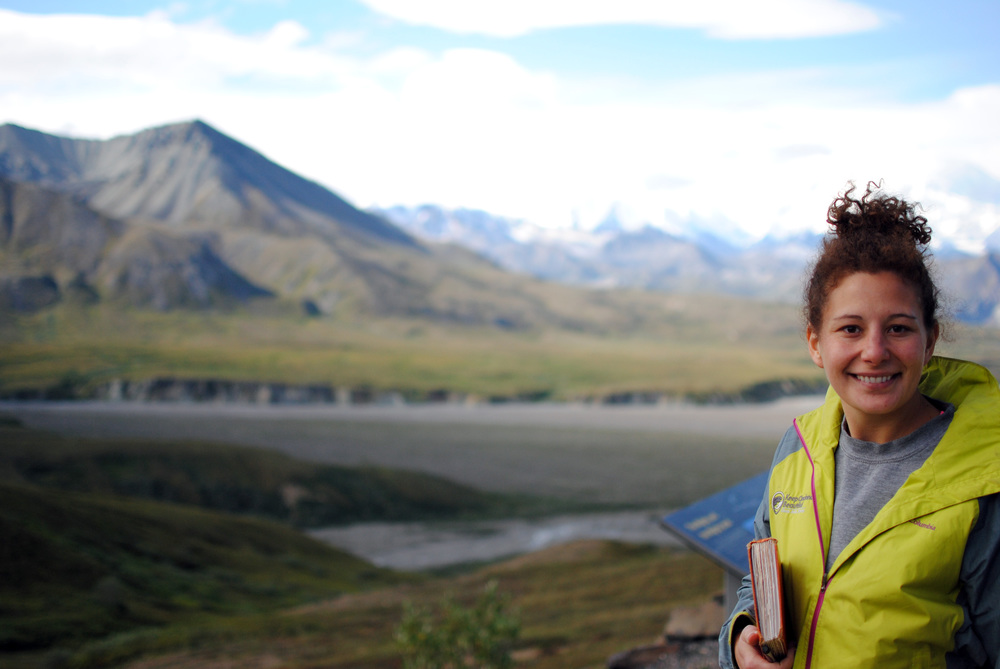 The first of the three was on the train. It was a long, long way away, but we stole a peek. The second time was in the morning of the park tour. We were riding the bus through a valley. We had seem some wildlife and were already having a pretty good morning. At one point, we made a turn and are strolling through the middle of a large valley.
Will screamed! "There it is!" He put the pedal to the metal, and we raced down a dirt road. He kept saying how lucky we were, and how lucky we'd be if it was still out when we reached the overlook.
I mean, seriously, this guy was excited, and he does this every day. That tells me he probably doesn't get to see it every day. As big as the mountain is, it's not like you have a shot at seeing it for every one of the 92 miles of the park road.
If you were wondering why he was ripping and roaring on a dirt road through the mountains, it's because we weren't allowed to exit the bus other than at designated areas and for emergencies. And, the upcoming overlook was just past a turn when the entire mountain range comes into view.
Well, we could still see it when we arrived at the stop, and it was magnificent. Most of the national parks in this country have beautiful vistas. Few of the vistas pull you into another state of mind.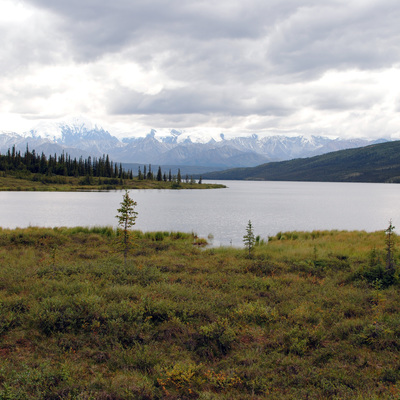 Part of the park road rides along a ridge just north of the Alaskan range. At this stop, you can walk up to the edge of the ledge and see the world open up before you. Your entire view is the Alaskan mountain range. And there's nothing to say. Maybe, "Wow!" or some other awe-littered exclamation, but you can't do much else. It takes over you.
That has happened to me only a few times (Grand Canyon was not one of them), and there's not much like it. I'd put it up there with Glacier Point, Tunnel View, Grandview Point, Hidden Lake, and Oxbow (in Theodore Roosevelt NP), which are some of my favorites.
After lunch, and on the way out of the park, the sky was cloudy. Then, in spectacular fashion, then sky opened up and Denali showed her beautiful face one last time. Again, Will could barely contain himself. Except this time we were a long way from an overlook. But, wouldn't you know it, we were having … engine trouble … and we just had to get off the bus.
Grizz!
I love and am terrified of bears. It's this weird fascination of mine. And I love the most and am most terrified of grizzly bears.
We saw 10 throughout the day (assuming we aren't counting the same one twice, which I know is racist, but I seriously can't tell them apart). There are three stories to note.
First, we saw a mama and two cubs running around a field. They hung around for awhile. We sat quietly in the bus and just watched. It was a nice moment for the two of us and Will and a bunch of old people.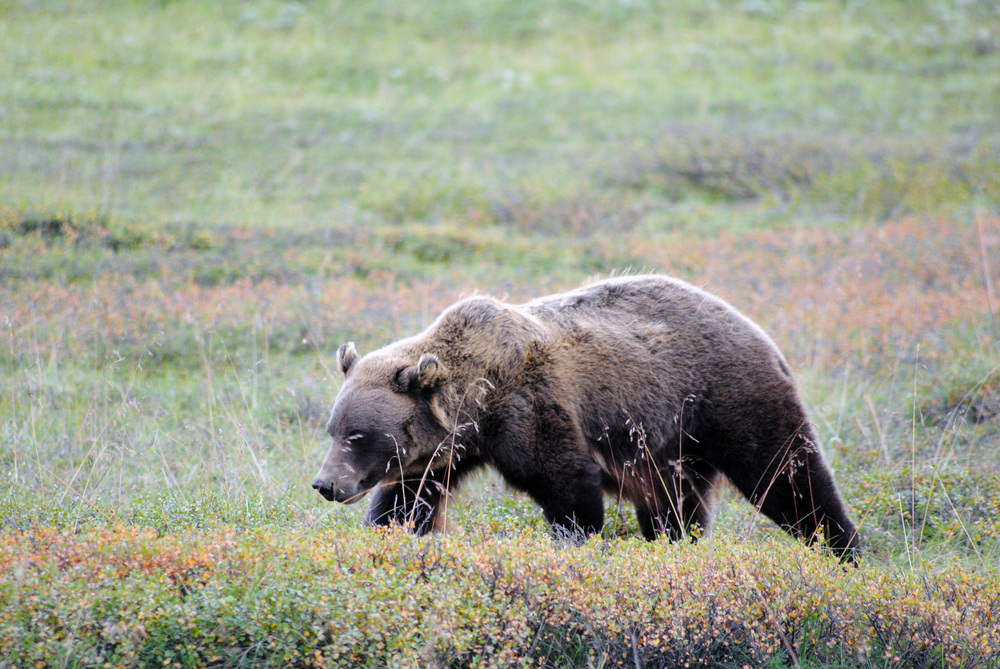 The second story happened later in the afternoon. A big old fellow came right up to the bus. It's one of my favorite photos of the trip, and it has started the tradition of my wife stealing my computer and photoshopping a celebrity or character on top of an animal, like this one: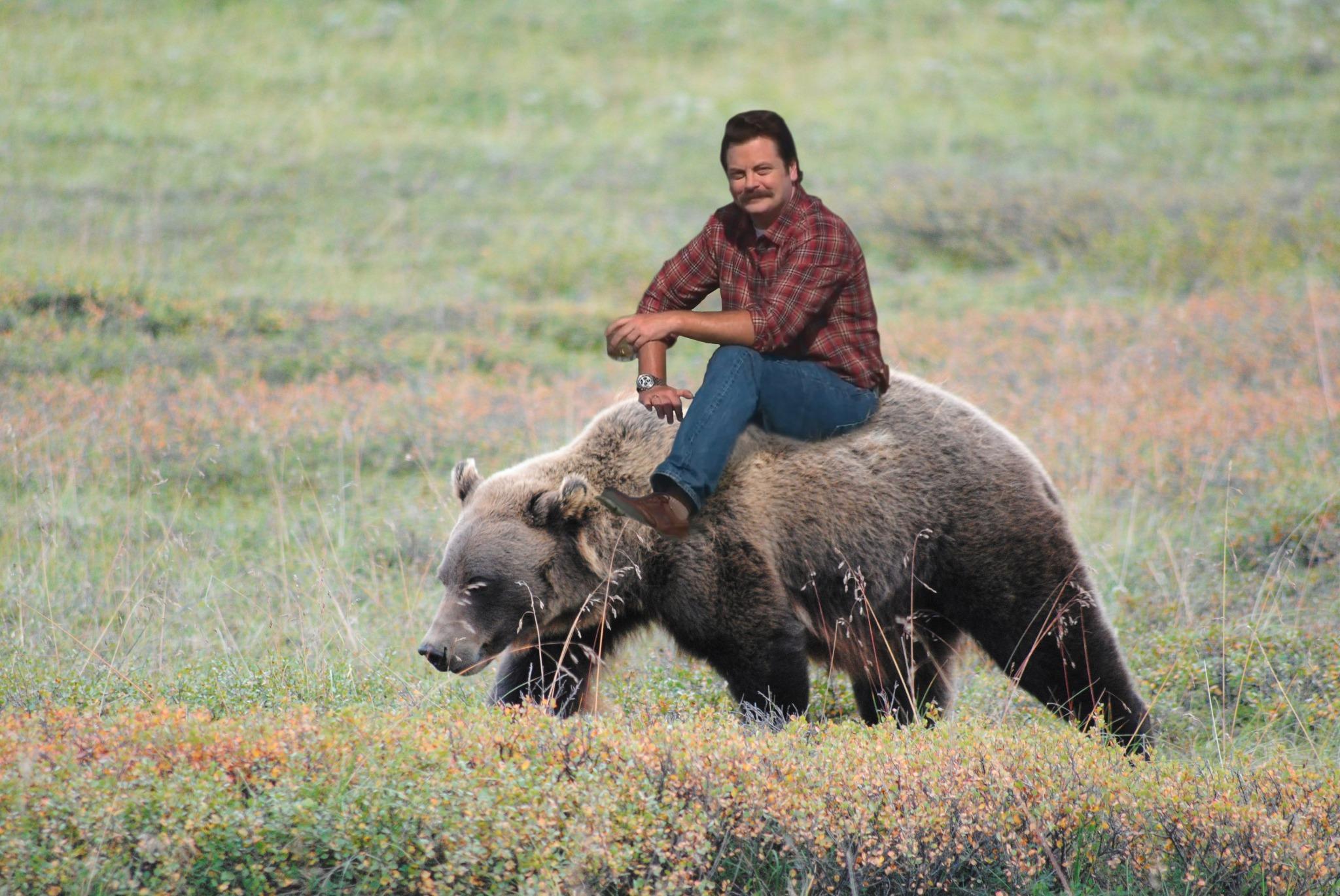 The last story was only a story, as we were not witnesses. Apparently, a tour the previous week got to witness a territory dispute between two males, right on the side of the road. It sounded intense. And when grizzly bears kill one another, they become cannibals. Smart cannibals. They bury the dead body in the ground, sit on it to keep it warm, and eat it, piece by piece.
Nature is gross. Nature is interesting. Nature is awesome.
Other Wildlife
There was wildlife all over the place. It got to the point where we had to tell people to stop yelling, "Caribou!" We'd seen 100 of them. Only point it out if it's something new became the rule. We also came across a couple cow moose, a red fox, doll sheep (a long way off), and a few golden eagles.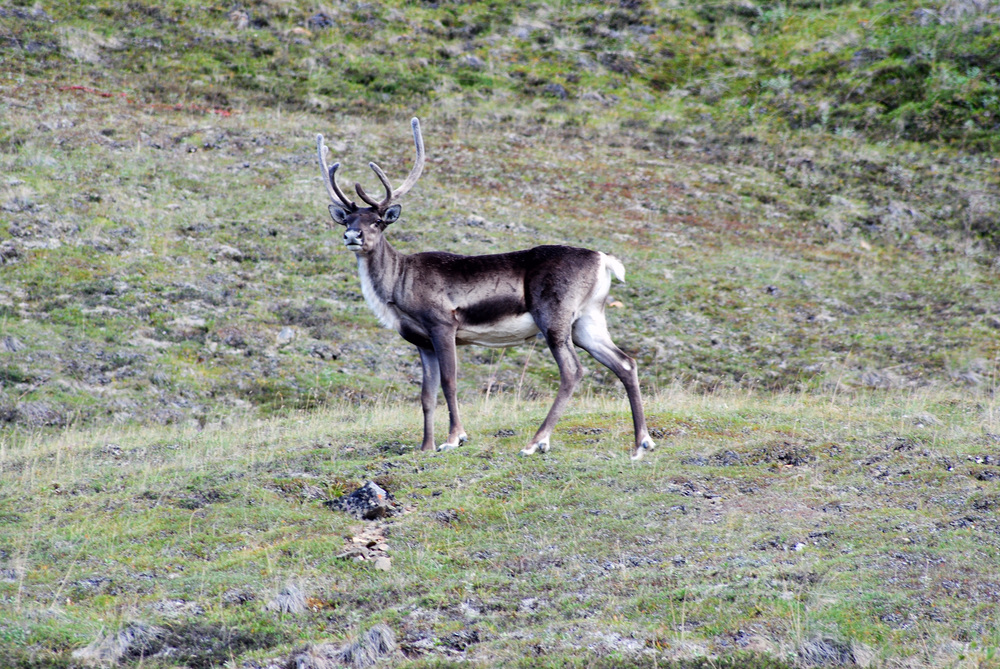 Seasons Change Fast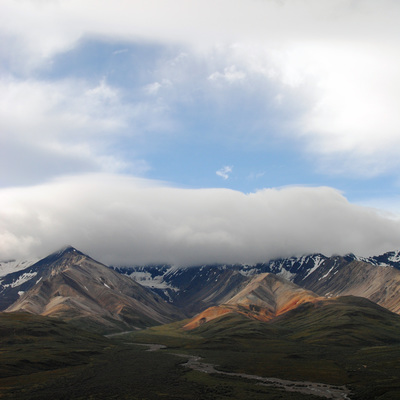 We talked a little that afternoon about how the clouds seemed to hang right behind the range. They were waiting for another push and then they were going to do some serious damage to the park.
And that turned out to be exactly what happened. And within two weeks of our visit a snowstorm hit and parts of the road were closed.
Another thing I thought was pretty cool was noticing how fast the seasons change there. We were pretty positive the leaves of this particular tree near the entrance changed while we were in the park, although I have no photo to prove it.
Back To The Cabins
The bus made a few stops and then dropped us off at our cabins. We didn't get back until after 7:00 pm, and we were beat (sitting down all day is exhausting). We hit up the same restaurant (Prey) and called it another early night. We still hadn't adjusted to the time difference.
>