<
Not A "Reservation"
Hoonah, Alaska
Icy Straight Point is a privately owned village. They called it a native corporation. Most of the island is Hoonah, Alaska, while Icy Straight Point is owned by the Huna Totem Corporation. From what I recall of the discussions about it, it seemed to be essentially an American Indian Reservation with a different name.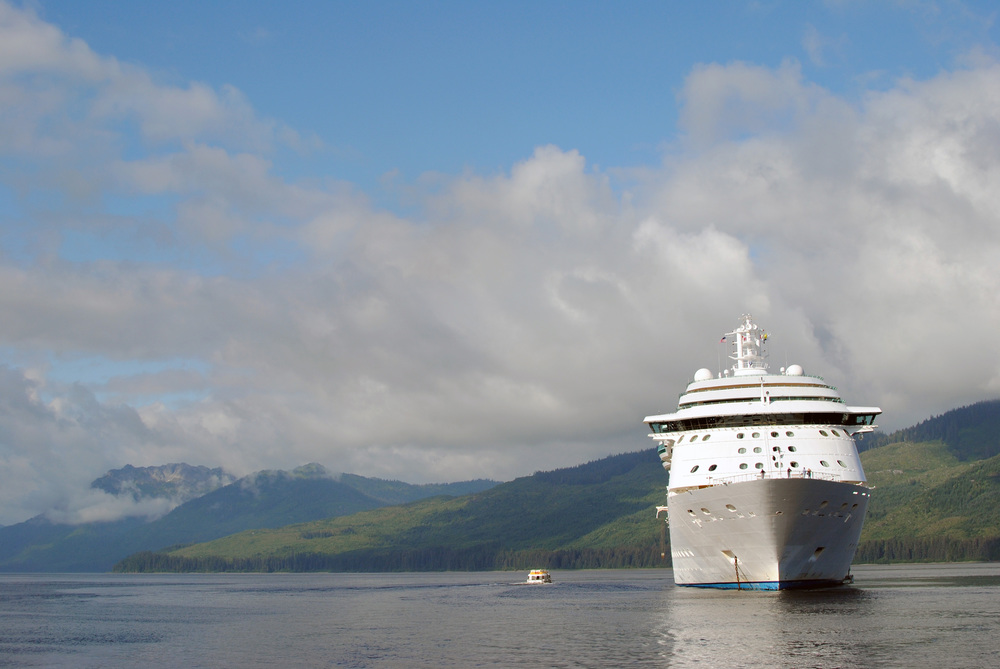 Not-Chicken Tenders
Anyways, there were less than 800 local residents, which meant no port. At 9:15 am, we were grouped with the people we'd spend the day with and took a life boat to land. We were excited. This was going to be another adventurous day. The sky was nice enough and we were going to see bears and whales!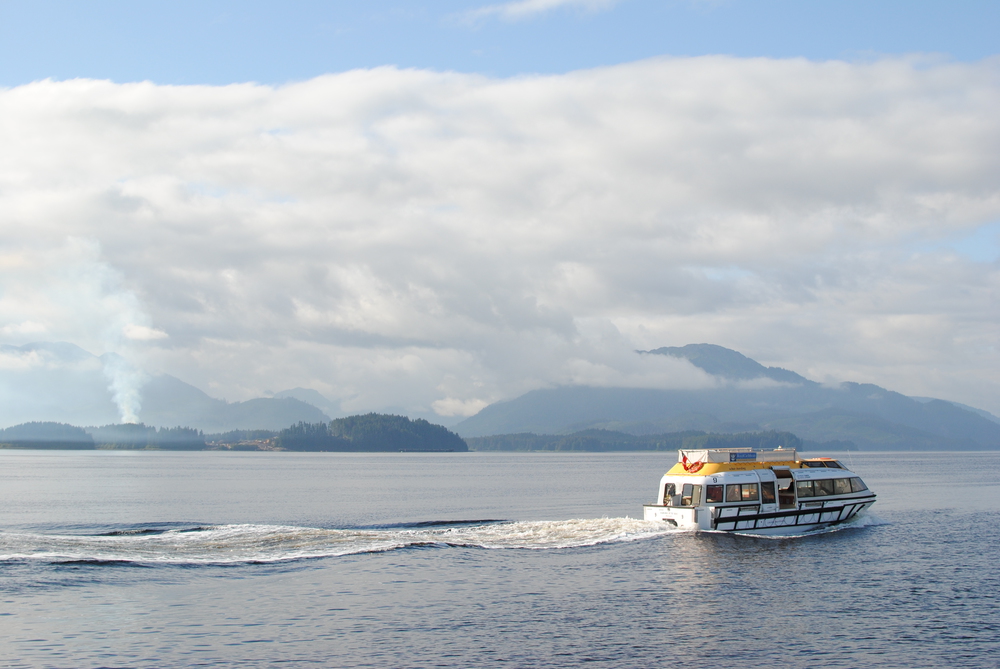 We arrived at the island and explored the two buildings on the coast. One of them was pretty interesting. It was an old fishing cannery, which was the only industry in Hoonah for a long time.
By 10 am, we had exchanged our tickets for stickers, and we jumped on a bus, ready to go see some bears!
And then it got interesting.
Play Dead or Run Downhill
During the 30-minute bus ride, we learned almost nothing about the island. We did learn about a third of the entire life history of our tour guide, though. He likes to play the guitar. He went to school somewhere because girls are not plentiful in Hoonah. He's really annoying. You know, the typical sort of things.
We did talk about bear safety, and out of that chat we obtained a quote we will remember forever. My wife and I rehash the joke every so often and it always sparks a laugh. A man raised his hand and, with all the seriousness he could muster (no, seriously, he was serious), he said:
If we see a bear, do we play dead or run downhill?
My wife and I looked at one another and our jaws dropped, as we stifled laughter.
We had so many questions for this man. Are there really only two choices if you see a bear? What if the answer is to run downhill and you happen to encounter a bear on flat ground? Or even worse, what if the bear is downhill. Should you run right into it?
As dumb as that question was (and yes, there are dumb questions), I'll support the man in bringing up bear safety. Our tour guide seemed to think grizzly bears were friendly. Plus, he was far too interested in his personal backstory to care.
So, if you're reading this and you don't think that's funny. Or if you don't know about handling yourself in an encounter with a bear, I'd suggest reading about it. Here's a good article, and here's Yellowstone's page. But, in general, one thing is always true: you never run from a bear. Bears have that natural chase instinct and they will run after you.
Bears Not Guaranteed
The bus arrived at our bear-watching place, dropoped us off, then left. Wait … what? He left us? Yeah, we don't know why he couldn't just wait 30 minutes for us to not see any bears and then we'd be back.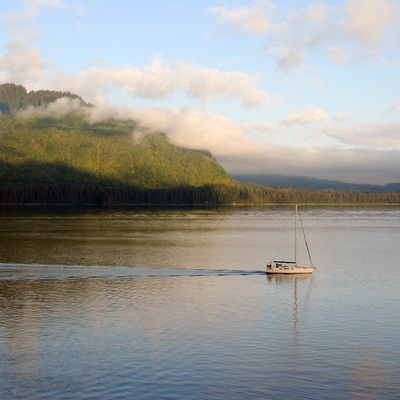 Also, when we got off a bus, there was a man with a rifle, waiting for us. Oh, goodie, we're with 40 people who have never seen a bear, so at least there's a man with a rifle!
Throughout the bus ride, the tour guide kept saying bear sightings are not guaranteed. It even said that on the brochure. We had been warned, but, hell, we wanted to see some bears.
We didn't see any bears.
And the landscape really wasn't that interesting. We just stood around looking at a river and a grassy field.
Whales Guaranteed
Fast forward to waiting for the whale-watching boat. We were still laughing about the bear question, while hoping something would actually happen on this next excursion. At least the little donuts were satisfying.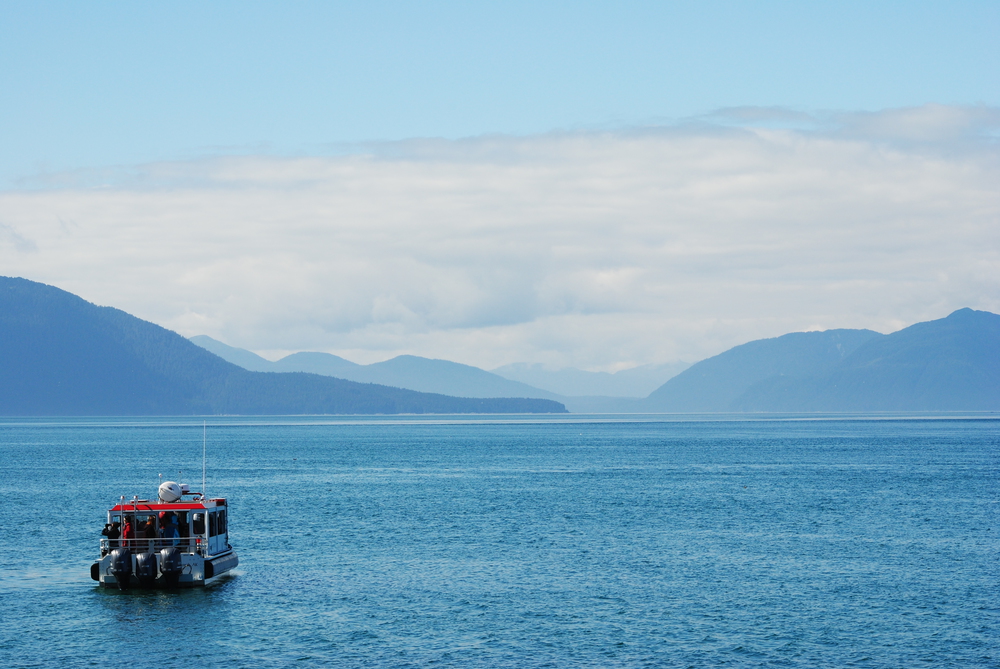 The boat took us a long way from the island. A long way. It made me wonder how that island because a cruise ship destination. They have bearless bear hikes and boats that take you to other islands. Hmmmm …
In any case, this adventure was fruitful. We nestled ourselves in a corner outside, and it proved to be a good spot. We saw what seemed like dozens of humpback whales (whale sightings were guaranteed). One even came within about 30 yards of the boat. We also caught some bald eagles, sea lions, and porpoises.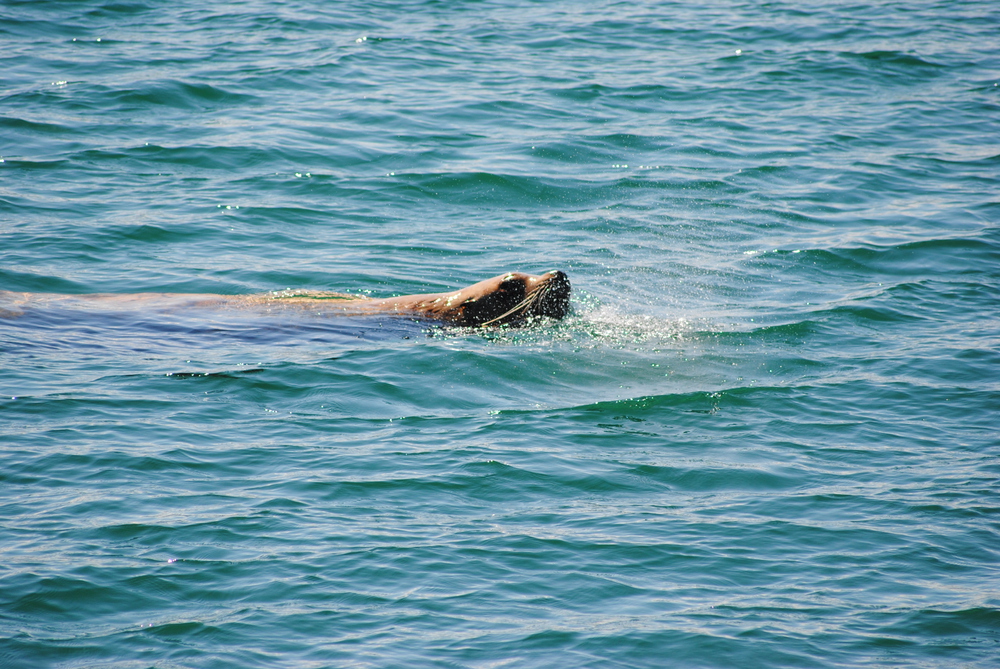 Oh, and, we got a free snack: one cracker!
Of the hundreds of photos I took on this boat ride, a few turned out to be among my favorites of this trip. The cover photo I chose for today is my favorite of all the honeymoon photos.
A Good, Good Day
Although I've masked it with a heavy layer of sarcasm, I'll say this day was a good day. The parts that weren't fun at the time produced good stories, and the parts that were fun we'll remember for a long time.
We played the usual dart game, had ourselves a formal dinner, and called it a good day.
>