<
A Rainy Morning
Anchorage, Alaska
We awoke to the sound of the rain and rolling luggage. We could hear the luggage because our windows were open. I can remember the last time I was in a hotel room without air conditioning, but it was enjoyable.
We jumped on the train, after having to wait in a long line in a hot building.
The Last Train
The 4-hour ride from Anchorage to Seward was even more beautiful than the previous day. Given that and our obnoxious car-mates, we already regretted not purchasing Gold Star tickets. We walked around the train a bit to take in the incredible landscape. We had to store this in the memory bank in case we never make it back (we'll make it back).
We saw a large number of bald eagles, and I started to realize just how prevalent they are in southeast Alaska. We'd learn later in the trip that bald eagles prefer about one square-mile to themselves. They won't get much more populated than that. Still, they are all over the place in southeast Alaska, and that's pretty cool.
Seaward In Seward
Seward, Alaska
Our train arrived in Seward late morning. There was only one problem: it was pouring.
Pouring.
We stood at the station for a bit, trying to decide what to do. We couldn't board our cruise ship for another four hours or so. And we knew that going into it, and had just planned on exploring the city while the minutes slipped away.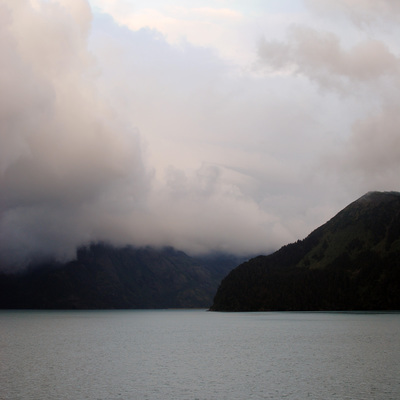 We did what we usually do when the weather doesn't cooperate with us. We found a bar.
I really enjoyed that bar. It seemed free of tourists for the most part (at least until we walked in with all our luggage). It smelled like a fisherman's basement, but there was beer and chairs and football. (This is the place I realized NFL Sundays would start at 9:00 a.m. in Alaska.)
We left several hours and several pitchers later. It was only sprinkling at that time, so we took our sweet time and stumbled two miles or so to the port. (By the way, no one else walked to the port. It was an odd walk, to say the least.)
We were able to get on the boat with VIP access. I don't remember exactly what that meant, but it was fast, and I think it was a result of the Expedia Rewards program.
After an interesting day, we were on the boat and relaxed. We did the muster drill (where no one listens) and then we were ready to enjoy the evening.
Me And My Shirts
I have a story and a thought for you. First, the story.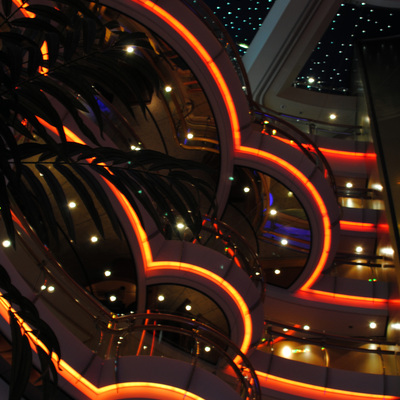 I figured there'd be an iron in our room, so I didn't put much effort into neatly packing my button-down shirts. And I'd have to wear one every night to dinner. So I asked our hall human (or whatever you call them) if he would kindly grab me an iron.
"There are no irons for guests," he told me, in broken English. "For safety," he added.
That's fair, we thought. We had a idea. We would steam all the wrinkles out of the shirts.
Not wanting to pay $4/shirt to get it ironed by the staff, I made the shower as hot as it would go, filled the entire tiny bathroom with steam, and hung all the shirts.
It turns out, the smoke detector did not agree with our method, and within about 15 minutes of boarding, we had security guards inspecting our room. Woops!
I paid for the shirts to get ironed, while somewhere on board, some ghost whispered, "Gotcha!"
Now, my complaint. It took effort, strength, engineering, and money to get a wrinkle-free suit from Cincinnati, through Fairbanks, Denali, and Anchorage, and onto a cruise ship. I did this because I was told I had to. I didn't want to wear a suit to dinner. That's not interesting to me. I think I look better in other clothes. But I did, because those were the rules. Two nights were formal (suit required). Three night required at least a tie. And the other two nights were business casual.
It is my thought that if this is the policy, it should be the policy. I did all this because I thought I had to. Then, on one of those nights requiring a tie, I saw a man enter with a bathing suit and a t-shirt. They let him in. They sat him. They served him. That's not cool, Royal Caribbean.
In any case, we were on the boat, and we were happy. Once again in a place with as much unhealthy food as we could possibly eat.
>