<
Happy Birthday, Mom!
Setting a wedding date is hard work. One of the tougher first-world problems. There are a great many things to consider. Avoid Ohio State game days. Avoid months where it rains all the time (which seems to change every year in Ohio). Make sure it's not too hot. Don't conflict with another couple that may steal your guests. Make sure it's far enough away from couples who have been engaged longer than you so they don't think you're raining on their parade.
It doesn't end, so you just have to pick. We picked August 9, which meant two significant sacrifices for my parents. First, it meant our rehearsal would be August 8, which is my parent's anniversary. Surprise, Mom and Dad! You get to spend your anniversary with us, and you get to pay for it! A week later is my Mom's birthday, which meant we'd be on our honeymoon, and maybe without phone service (if we can't get Sprint coverage in downtown Cincinnati, should we expect to have it in Juneau?).
Anyways, the ship spent most of the day in Juneau on my Mom's birthday, and we were punished with rain.
Where's the Sun?
Juneau, Alaska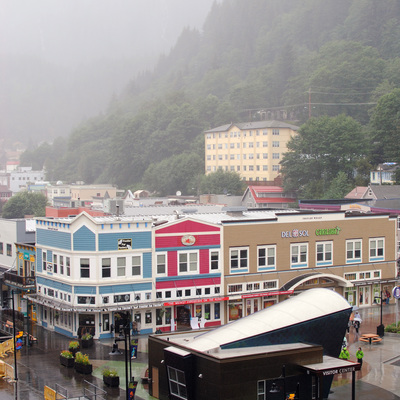 We hadn't seen the sun since … it was already getting hard to remember. Oh, right, when we watched in set in Anchorage. That felt like a long time ago.
It poured in Juneau. All day. Raining and in the 40s in August. Yikes!
We hadn't planned many excursions, but one we were particularly excited about was sea kayaking in Juneau. The weather lessened our excitement, but we threw on rain gear and disembarked with high spirits.
After we stood in the rain for 15 minutes, waiting for our guide, the company canceled the excursions.
And somewhat unfortunately, Juneau is a large-ish city. They have enough commerce coming in that everything surrounding the port is tourist shops. Jewelry, ice cream, knick knacks. No matter where you go, the stuff is all the same, it just has different words on it.
That's another complaint I have about cruises. It is not easy or cheap to explore what your stops are actually all about. Sometimes the port is an expensive cab ride away from the city. I'd love to have explored Juneau, but the weather didn't cooperate and we weren't up for dealing with it. We did a little tourist shopping and then got back on the boat.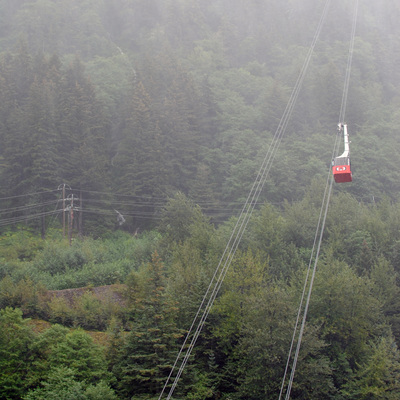 It seemed the rest of the boat went through with their Juneau plans, or at least they weren't on the boat. That left the hot tub open for stealing. And while we weren't interested in walking around the town, sitting in a hot tub in the 40-degree rain, looking up the foggy mountains … well that was kind of lovely. We met some nice Ohio folks, who joined us in the hot tub, and then our laziness drifted into the evening.
Before we ate dinner, we had planned to walk around the boat and check out the bars. We discovered a rather empty bar in the back of the boat. It had darts. And thus began our streak of playing darts during cocktail hour. I'm not sure which dart game we played. I may have just made it up.
>